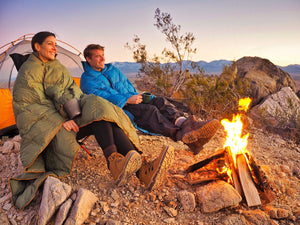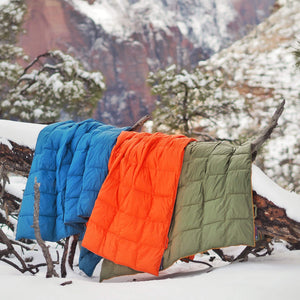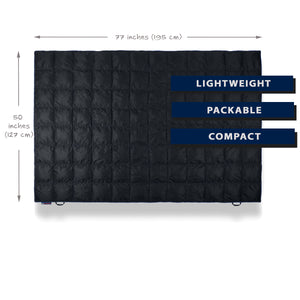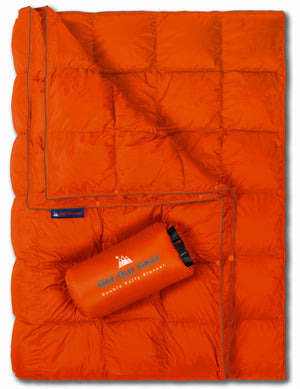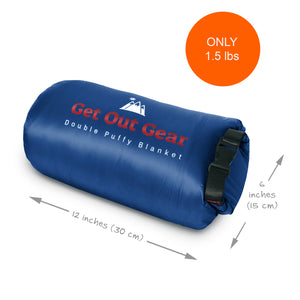 Double Puffy Camping Quilt
Whether traversing the backcountry, chatting around the campfire, or just cozying up with your favorite book the Double Puffy camping quilt is the perfect balance of warmth, weight, and packability.
The Double Puffy is ideal for outdoor adventurers of all kinds. Whether you're an explorer, beach lover, hammock chiller or a smore-toaster, you'll LOVE the Double Puffy camping quilt. 

Featuring the light-weight packability, warmth and durability our customers love from our products PLUS the ease in which it transforms to a poncho in just a few snaps makes it a perfect addition to your outdoor gear, and also doubles as the perfect gift for your favorite adventurer. 
So warm and cozy, it loves you back! 
PRODUCT SPECS

Weight: Double Puffy: 1.5 lbs

Dimensions: 80"x54" when flat/compressed. 77"x50" when fully puffed/lofted. Stuff sack 6"x12" 

Materials:

Double Puffy: 20D ripstop shell. Premium synthetic (14 oz./400g, down alternative) insulation. DWR (durable water repellent) coating
Temperature Rating: 45F
Free & fast shipping within the contiguous U.S. and a hassle-free 30 day return policy.
Free Shipping
Don't like shipping fees? Neither do we! That's why we include free shipping with every order over $49 within the USA.
30 Day Easy Returns
We're confident you'll love what you order, but if you're unhappy for any reason - whether it an issue with the product or just a change of heart - just send the product back to us and we'll make it right.
Return instructions:
1) Email us at support@shopgogear.com
2) Provide your order number and items you want to return.
3) We will reply with a link with your Return Merchandise Authorization (RMA) and shipping label.
4) Ship the items back.
That's it!
Care Instructions
Is this blanket washable?
Yes! It washes up beautifully. Just wash on gentle cycle in cold water and tumble dry on low heat or line dry. Wash only in a front load machine or top load machine without center agitator, so it doesn't get wrapped up. Otherwise hand wash.  Do not iron or dry clean.  Avoid any bleach or fabric softeners and you'll be good to go!
PRODUCT SPECS
Weight: 1 lb 6 oz
Dimensions: 80"x54". 77"x50" fully puffed. Stuff sack 5"x12"
Materials:
Shell - 20D ripstop nylon with DWR (durable water repellent) coating.
Insulation -  Ethically and sustainably sourced 650 Fill Power down insulation.  
Frequently Asked Questions
What temperature rating is it?
In conjunction with an underquilt or sleeping pad, the blanket provides a nice ultralight option down to 45 degrees. It can also be used to supplement an existing sleep system, adding an additional 15 degrees of warmth. Thanks so much for your question!
How compact can this pack in its' stuff sack? 
The dimensions when packed in the stuff sack are 5 inches in diameter x 12 inches long.  
Is this blanket washable? 
Yes! It washes up beautifully. Just wash on gentle cycle in cold water and tumble dry on low heat or line dry. If using a top load machine with center agitator, check midway to make sure it's not getting wrapped up. Avoid any bleach or fabric softeners and you'll be good to go!

How should I store it?
For long-term storage we recommend hanging your blanket in a cool dry place from the built-in loops, or leaving it in a large sack where the down insulation can remain uncompressed. 
Can I use this on a plane? 
It's perfect for the plane! We used it on an 11 hour flight to France and it was large enough to keep both of us warm. The clasp allows you to hook to your carry on bag. It also stuffs quickly and easily back into the sack when you're ready to disembark. We also used it in the park as a picnic blanket which worked out great.
"I absolutely love the snaps that allow you to wear it over your shoulders without having to hold onto it."
J. Gleason
"Winner - you can't beat the price/performance ratio."
Frederic
"Super lightweight and kept me warm!"
M. Coin
go hands-free in 3 simple snaps
durable, water resistant and easy to clean
SO WARM AND COZY - IT LOVES YOU BACK!
We're all about enjoying the outdoors through well-designed, highly functional gear, that you'll truly love.
Sam Sherrill
No cold weather here but very warm on a cool and breezy day. Love this quilt. Lightweight and warm. We bought 3 of them.
Double Puffy Camping Quilt
best camping blanket
I was given this blanket as a gift and have since bought two more for friends. It's perfect!
Dp quilt
Super fast service.
Good product. What was expected. Wish 'someone' would make same thing only twice as thick.
Good value emergency gear
I have only had it out of the package one evening since receiving it. I love down products and look forward to seeing what this blanket can do. Love the small package and it will have a place in our van gear to save space. I don't know if it will replace a sleeping blanket because it kicks off my feet easily compared to a heavy wool blanket. I could see it as a warm weather sleep system of in an emergency kit for sure.